Making a holiday meal requires planning and strategy, along with excellent time management skills.
Before convection ovens, it took even longer to figure out how and when to place each item in the oven for those perfect golden-brown results.
Most ovens now can cook with convection, and for the holidays, it's a no brainer.
In this article, you will learn how convection works and why it's ideal for multi-rack cooking, especially if you plan to cook multiple items to finish cooking around the same time.
First, let's cover what convection is and how it works in your oven.
What is Convection Cooking?
Convection cooking uses a third heating element, fan system, and exhaust to circulate hot air throughout the oven.
Convection ovens cook your food faster and more evenly than a traditional oven. It will also brown your food all around instead of just on the bottom of your dish.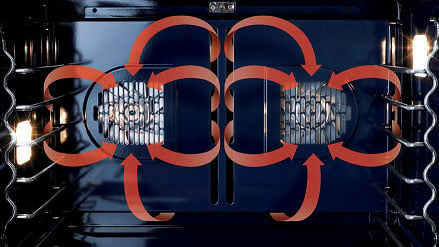 Twin Convection Oven with Two Fans
Convection helps to mitigate hot and cold spots that could occur and makes the oven a dryer cooking environment. This reduces the cooking time and ensures the interior of your roasts and vegetables stay nice and juicy.
Additionally, because of the exhaust and air circulation, there is no concern about flavor transfer. You can bake a pie and make all your savory sides at the same time.
Pro Tip: If your recipe doesn't specify using convection, the general rule of thumb when using convection mode is the 25/25 rule. You should set your oven 25 degrees Fahrenheit less than the initially requested temperature, and it should cook in 25% less time.
Read More: Gas Vs. Electric True Convection
How to Multi-Rack Cook in Your Convection Oven for the Holidays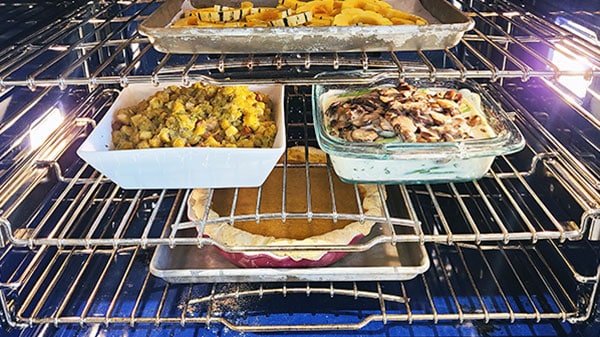 Multi-Rack Convection Cooking at Yale Appliance
1. Choose Foods that Cook Around the Same Temperature
To have the best results while cooking multiple dishes at the same time in your oven, you'll want to choose food items that generally cook around the same temperature.
2. Know Your Convection Modes
Next, you should consider what type of convection oven you have and what convection mode you're planning on using.
All convection ovens and modes are not equal. Some are better for savory cooking, some are more precise for delicate pastries, and some are great at both.
That being said, the convection modes will vary from oven to oven and between brands as well.
Convection/True Convection: Hot air is being circulated throughout the oven's cavity with the fan and the third heating element from the back of the oven. This mode is ideal for multirack cooking of the same item, like three trays of cookies.
Convection Bake: This mode is ideal for things like pies or pastries that may need a little bit more heat from the bottom of the oven but will also benefit from hot air circulating throughout the oven cavity to ensure the top and sides cook evenly.
This mode is also great for pizzas if you don't have an exclusive mode dedicated to baking with a stone. If your oven does not have a convection bake specific mode, straight convection will be sufficient.
Convection Roast: This mode is ideal for large roasts, turkeys, trays of vegetables, and casseroles that require color on top and all around.
The heat source is coming from the top and the back of the oven, with the hot air circulating throughout the cavity. This will ensure your proteins are nicely caramelized and crisped on the outside, while the convection air helps to bring the internal temperature up.
Pro Tip: A probe is recommended if you are cooking a protein in convection roast mode. If your oven does not have a convection roast mode, the straight convection mode will be sufficient.
Convection Broil: This mode is ideal for large pieces of fish or thicker steaks that will cook quickly under the concentrated heat of the broiler element and with the hot air circulating through the cavity of the oven.
There are very few scenarios where I would not use a convection mode, such as making a delicate souffle or angel food cake that would need to rise or a braised dish which you want to preserve the liquid.
Read More: Differences Between Single, Twin, European and VertiCross Convection Ovens
3. Space Out Your Oven Racks
Next, you want to make sure your oven racks are spaced apart evenly.
There should be enough room in between each rack to fit your food dish. If you expect your food to rise or pile high, provide more space between your oven racks.
4. Pay Close Attention to Cooking Times
Lastly, have cooking times listed for each food item. Your food items may need to be staggered when you put them into the oven or pull them out from the oven as they finish cooking.
Some dishes may take longer than others.
Convection Multi-Rack Cooking Test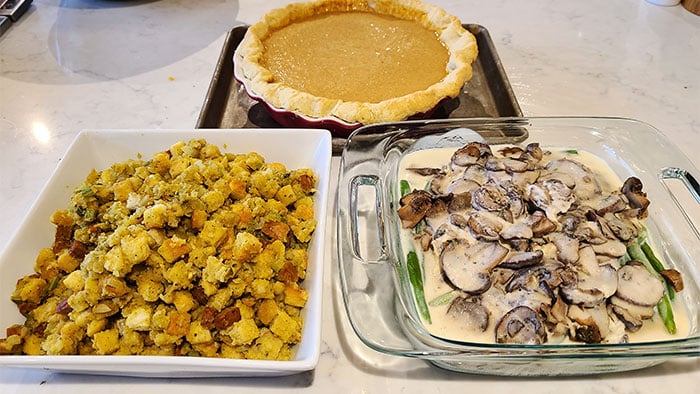 Multi-Rack Cooking Test, Choosing Dishes with Similar Temperature and Cooking Times
To show you how to cook multiple items in your oven simultaneously, I made three savory items, stuffing, delicata squash, and green bean casserole, along with one sweet dish, a pumpkin pie.x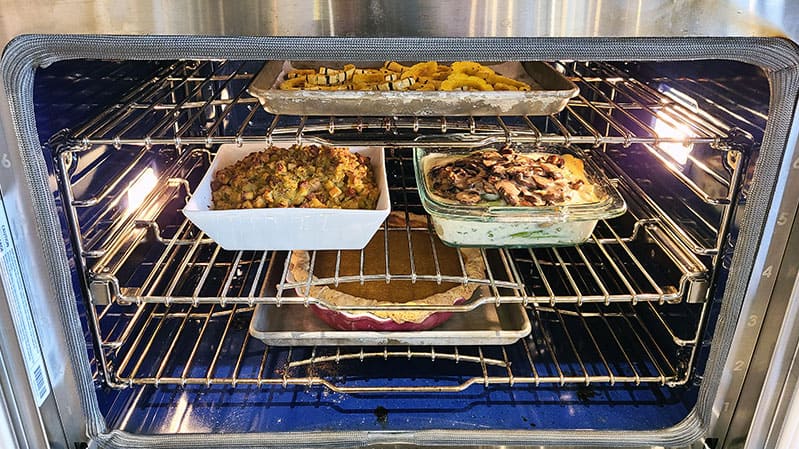 Placing Multiple Dishes in a Convection Oven While Moving Racks Accordingly
First, I placed the pie on the bottom rack, the green bean casserole and stuffing in the middle, and my honey glazed delicata squash on the top.
Everything went into the oven at the same time.
When trying to factor in temperature for multi-rack cooking, the food items should generally cook at the same temperature.
For the items listed above, I chose convection roast 375 F. The Delicata squash cooked the quickest in about 20 minutes.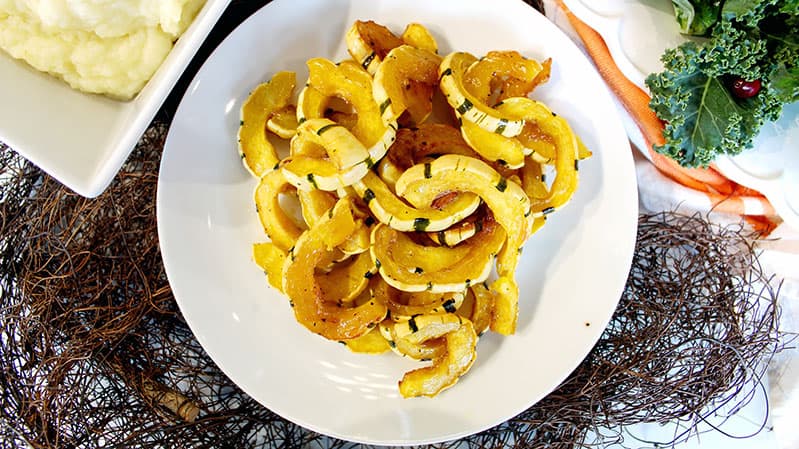 Delicata Squash Made at Yale Appliance
Next was the green bean casserole and stuffing at around the 30-minute mark.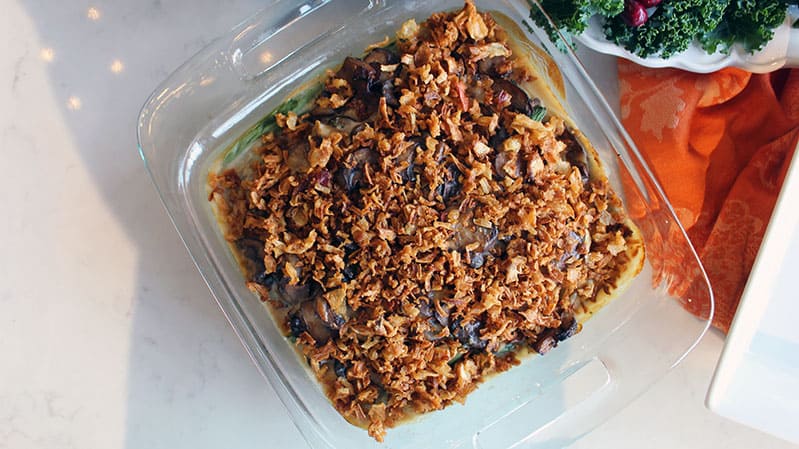 Green Bean Casserole Made at Yale Appliance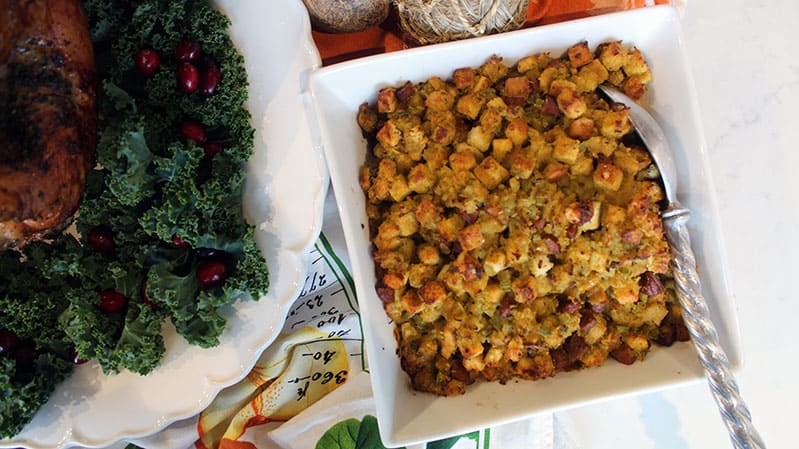 Cornbread Stuffing Made at Yale Appliance
I left the pie in a little longer, around 45 minutes total.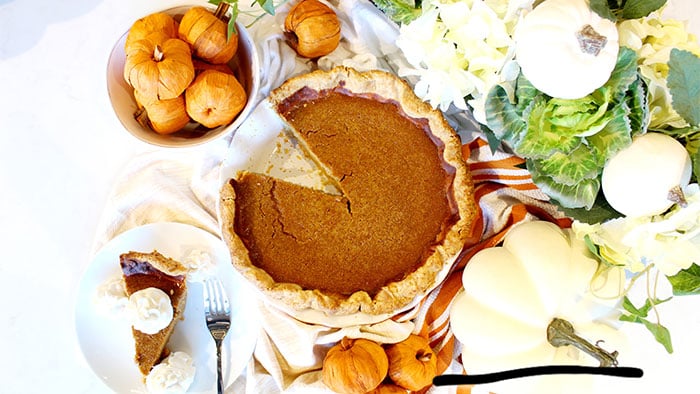 Pumpkin Pie Made at Yale Appliance
As you can see, everything is cooked beautifully with no flavor transfer between dishes.
Read More: 10 Best Holiday Side Dishes Using A Convection Range
Key Takeaways
Multi-rack cooking in a convection oven is most beneficial around the holidays. With a convection oven, it's easy to utilize and great for cooking your food faster.
Just remember to space out your oven racks and be prepared to stagger your cooking times for the best results.
Additional Resources
Confused about Wall Ovens? Get the Yale Wall Oven Buying Guide with updated features, specs, and detailed profiles of the best brands like Miele, Wolf, Viking, Bosch, Thermador, and more. Over 800,000 people have read a Yale Guide.
Related Articles: