After years of playing catch up to Bosch and Miele, KitchenAid finally produced a competitive dishwasher last year.
Only to completely and radically change it this year.
In this article, you will learn KitchenAid's new features and what features they should have saved from last year. We'll also cover KitchenAid dishwasher reliability along with a a brief comparison against Bosch, Miele, and Beko.
KitchenAid KDTM604KPS 600 Series Dishwasher Review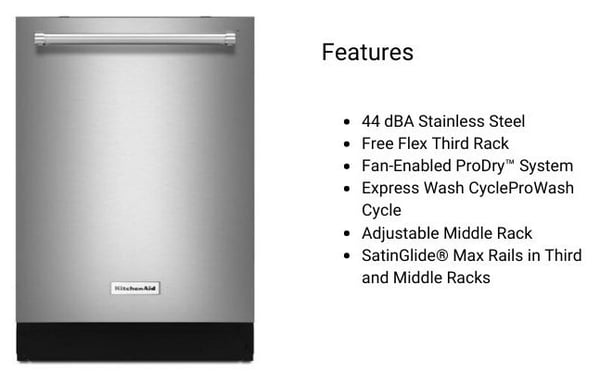 KitchenAid 600 Series Dishwasher Options
As of this writing, KitchenAid has two styles: Towel handle and pocket handle appropriately numbered KDTM604 and KDPM604.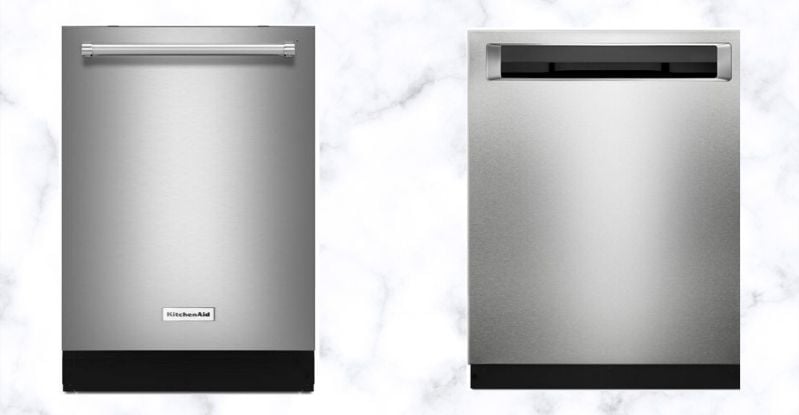 KitchenAid 600 Series Dishwasher Handle Styles
They will probably have it to accommodate a panel later in another model. However, even in the new series, the dishwasher protrudes past the cabinets.
So it looks like a dishwasher with a panel rather than a seamless cabinet. The new KitchenAid dishwashers, especially this series, is overall well designed.
However, this is their biggest missed opportunity in the whole line.
KitchenAid Dishwasher Washing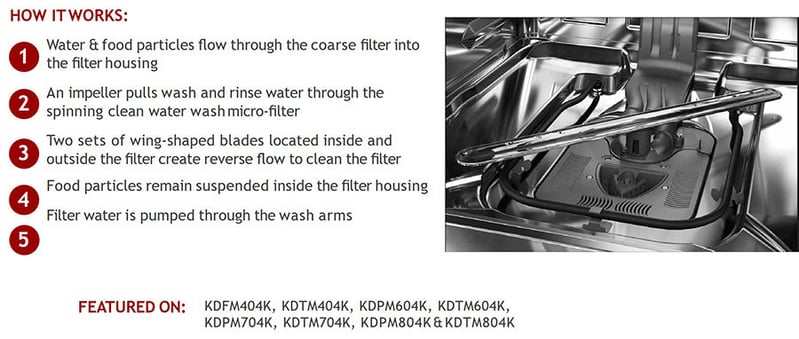 If we look inside, you see a new third rack designed to accommodate more items. Everyone has a third rack these days, but only for silverware.
The wash action may be the best in the industry. You have a smaller wash arm up top, plus sprays located in the third rack, and below the main two racks for four wash sprays.
Most companies have two or three.
This year KitchenAid added a second filter for better water filtration and cleaner dishes in theory. Most have only one.
KitchenAid Dishwasher Quietness Rating
The new filtering system adds noise. The less expensive model without the second filter is 39 DB. Every other KitchenAid is 44 DB.
44DB is not an accident. It is the minimum standard for quiet in a dishwasher. Most of the other well-known brands at this price are around 44 DVs as well.
KitchenAid Dishwasher Drying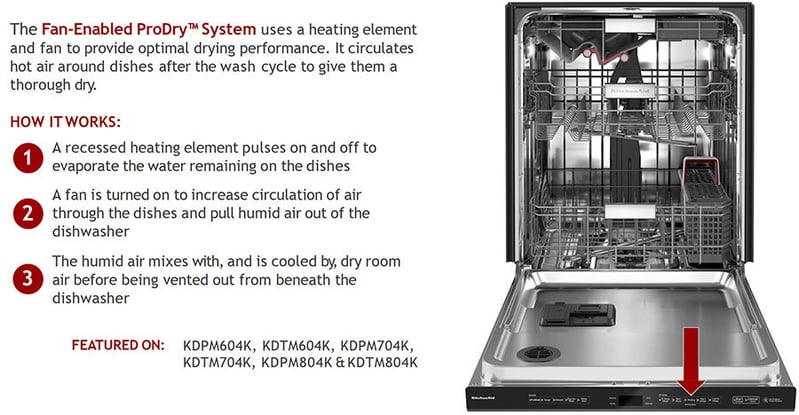 This model has pro drying. It uses an element to heat, but also a fan to pull outside drier air, so it attracts the hotter moist air and dissipates it as water.
KitchenAid Vs. Last Year's Model
Overall, KitchenAid has improved this dishwasher. You have a better-designed rack and cleaning system.
However, they could have kept the Bottle Wash from last year. It was a series of specialized water jets to clean the gunk out of your sports bottles.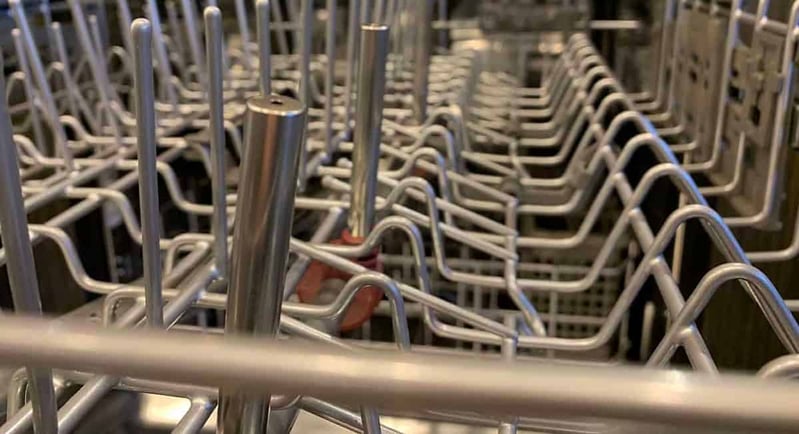 KitchenAid Dishwasher Bottle Wash System
Also, the rack flexibility in the racks could have been improved in this model. Only the back folds down, so you may problems fitting that odd-shaped pan.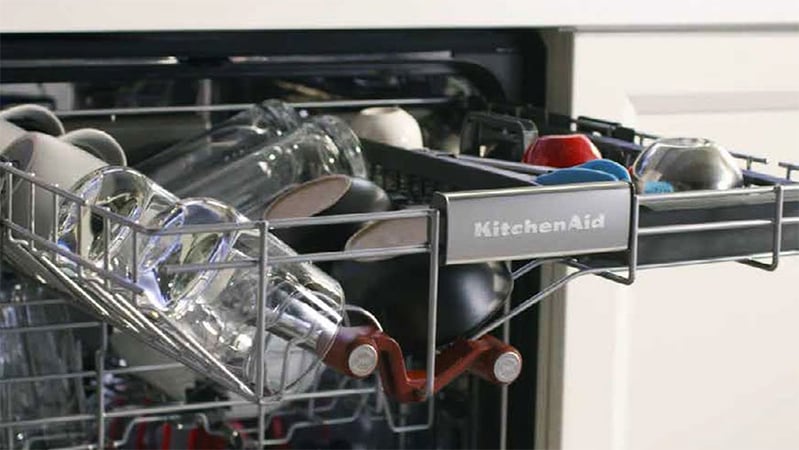 KitchenAid Dishwasher Third Rack
KitchenAid Dishwasher Reliability
Dishwasher Reliability for 2020
| | | | |
| --- | --- | --- | --- |
| | Service QTY | Shipped QTY | Service Ratio |
| Asko | 103 | 190 | 54.21% |
| Jenn-Air | 188 | 493 | 38.13% |
| Bosch Benchmark | 25 | 70 | 35.71% |
| Fisher & Paykel | 56 | 193 | 29.02% |
| Miele | 185 | 903 | 20.49% |
| Maytag | 2 | 10 | 20.00% |
| Gaggenau | 16 | 104 | 15.38% |
| Thermador | 126 | 872 | 14.45% |
| KitchenAid | 90 | 688 | 13.08% |
| Café Appliances | 3 | 25 | 12.00% |
| Bosch | 398 | 3573 | 11.14% |
| Samsung | 134 | 1297 | 10.33% |
| LG | 5 | 81 | 6.17% |
| Cove | 2 | 44 | 4.55% |
| Ge Appliances | 1 | 37 | 2.70% |
| Whirlpool | 38 | 1471 | 2.58% |
| Grand Total | 1377 | 10166 | 13.55% |
In terms of reliability, KitchenAid has become way more reliable at 13% repair in the first year of service calls on units sold. It's very good for a premium dishwasher and almost statistical similar to Bosch, which is only 1.5% better.
Hopefully, the trend continues with the newer models, because they are different.
Let's look at how KitchenAid stacks up against other manufacturers in terms of features.
KitchenAid Dishwashers & Their Competitors, Bosch, Miele, and Beko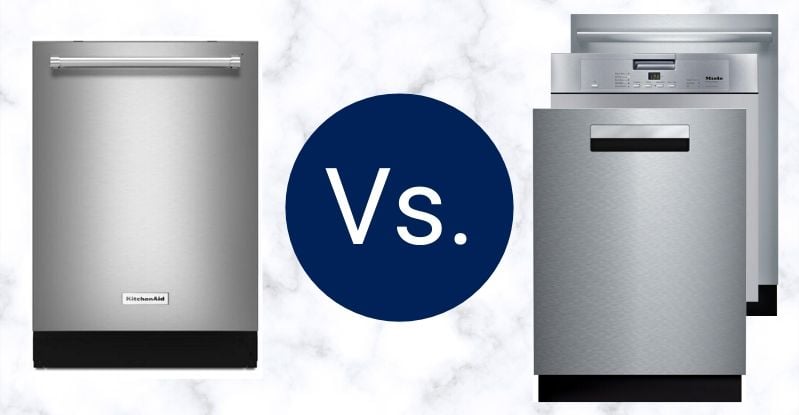 It will have more cycles and features than a Bosch and Miele.
KitchenAid 600 Series Dishwasher at $899 Vs. Bosch 500 Series Dishwasher at $949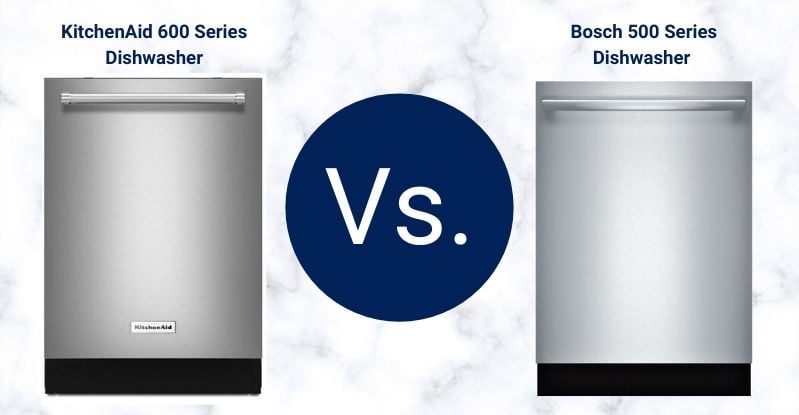 Bosch does have AutoAir, so the door pops open automatically to speed drying at a similar price at $949. They also have their CrystalDry using volcanic elements to speed drying.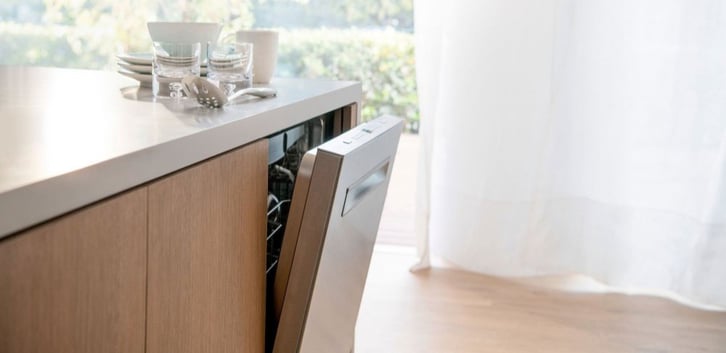 Bosch Dishwasher With AutoAir Drying
It works well, but you would have to spend $1200 versus $900 for this KitchenAid.
KitchenAid has a better third rack and overall wash system.
To learn more about Bosch Vs. KitchenAid dishwashers, click here.
KitchenAid 600 Series Dishwasher at $899 Vs Miele Full Console Dishwasher at $999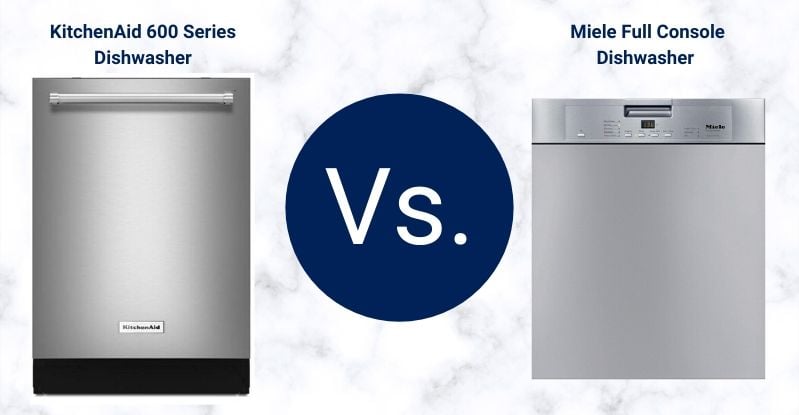 Miele has a basic dishwasher at this price. Their better dishwashers have the best rack flexibility but are $1500.
Interestingly enough, KitchenAid's drying is similar to Miele's CleanDry pulling outside air to dry your dishes.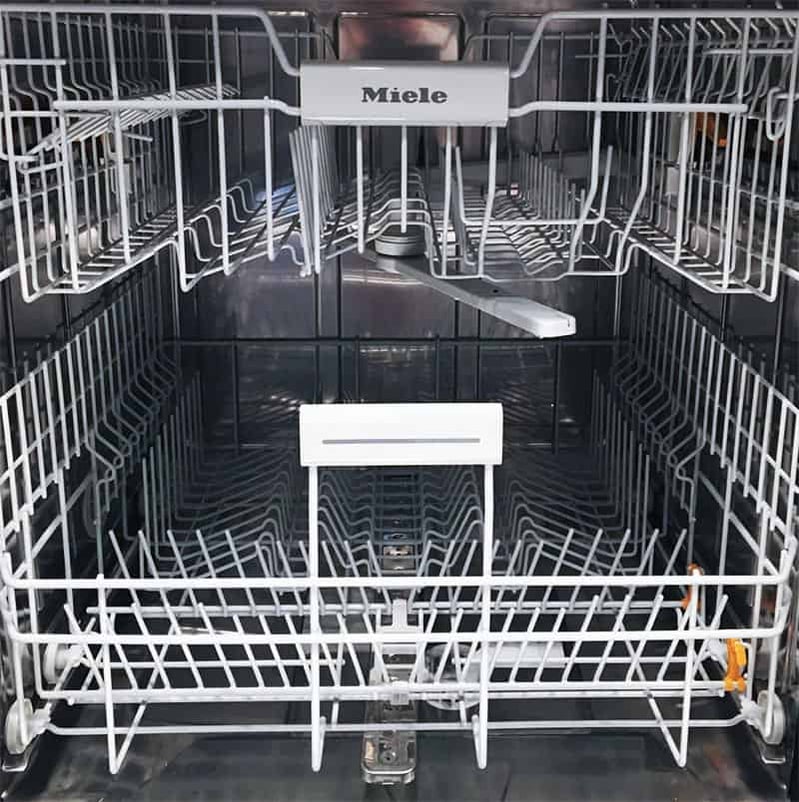 Miele Dishwasher Wash Arms & Racks
Miele has a good washing system with three full wash arms. KitchenAid technically has 4, but they are pretty similar.
Although Miele was the first with a third rack, KitchenAid's is now better featured.
To learn more about KitchenAid vs. Miele dishwashers, click here.
KitchenAid 600 Series Dishwasher at $899 Vs. Beko Dishwasher at $849
Then there is Beko with tons of features.
Beko is a new company offering Wi-Fi, and a competitive wash system called AquaIntense, scouring the dishes with a more pressurized wash.
It even removes odors by sending electrically charged Ions to neutralize the positive ions of odors and is the quietest at 39 DB.
It's pretty compelling, but KitchenAid does have better racks.
However, Beko is relatively new and we're yet to test their reliability.
Should You Buy KitchenAid's 600 Series Dishwasher?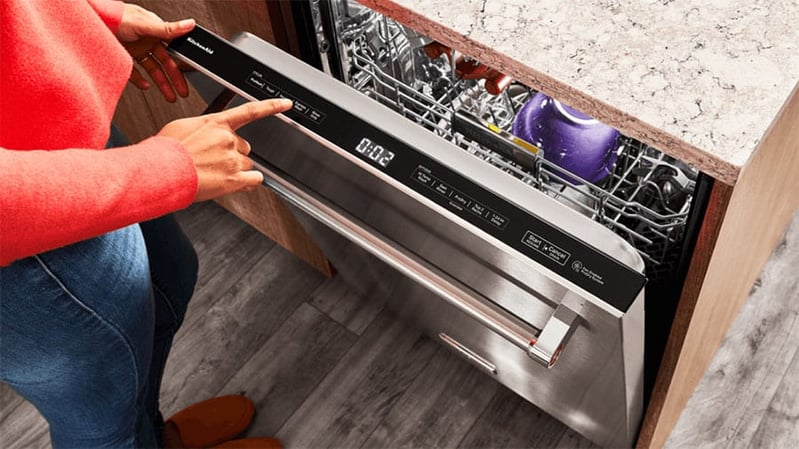 KitchenAid Dishwasher
This KitchenAid is certainly competitive at $899 other than the paneling issue outline above.
It does load the most with the new third rack. KitchenAid may also have the best wash system with four levels and a good drying system using outside air to better dry your dishes.
Overall, along with Bosch, Miele, and Beko, you should certainly consider a KitchenAid 600 series dishwasher.
Additional Resources
Get our free Dishwasher Buying Guide with tips, trends, and reviews of all the major brands. Over 820,000 people have already found answers in a Yale guide.
Related Articles: