Massachusetts Tax-Free Weekend is August 29th and 30th this year. Tax-Free Weekend was signed into law two years ago. This year, it's starting late, and that's a good thing, especially for appliance shopping.
I wrote this article early on purpose because you have some serious decisions to make before Tax-Free Weekend.
Let's first talk about why you should wait for Tax-Free Weekend before shopping for appliances and then look at a surprisingly good argument against it.
Let's get started.
MA Tax-Free Weekend 2020
The following are the rules for previous Tax-Free Holidays:
Tax Holiday is a suspension of Massachusetts State sales tax for all items under $2,500.
You can buy as many items under $2,500 as you want.
You have to pay in full for every item.
Any items exchanged after the holiday will be taxed at the standard 6.25%.
You do not need to schedule delivery at the time of purchase.
You can save 6.25% on any item under $2,500. There is no limit to the items you can buy, and you can schedule your order whenever you want (we will get back to that later).
That's a pretty good deal.
However, it pales when comparing to other promotional holidays where savings are normally between 10-35%.
When Are The Best Times To Buy Appliances?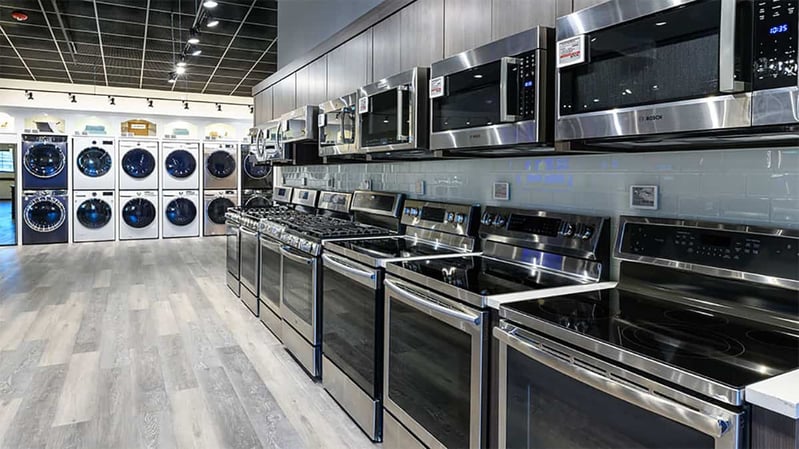 Freestanding Ranges and Front Load Laundry at Yale Appliance in Hanover
Frequent readers of this blog probably have this memorized, but there are specific times to buy an appliance.
The best times to buy appliances are during promotional holidays such as:
Presidents' Day
Memorial Day
July 4th
Labor Day
Black Friday
These savings can be as much as 35% as manufacturers fight for market share and your business.
The Tax-Free Weekend is late this year, and manufacturers are offering additional savings for Labor Day along with the 6.25% tax discount. You have the best of both worlds.
It will probably be the best time to buy an appliance this year.
With possible savings of over 40%, how could this be a bad idea?
This year is different in so many ways, many of them bad.
Here's why.
Why You Shouldn't Wait For Tax-Free Weekend To Buy Appliances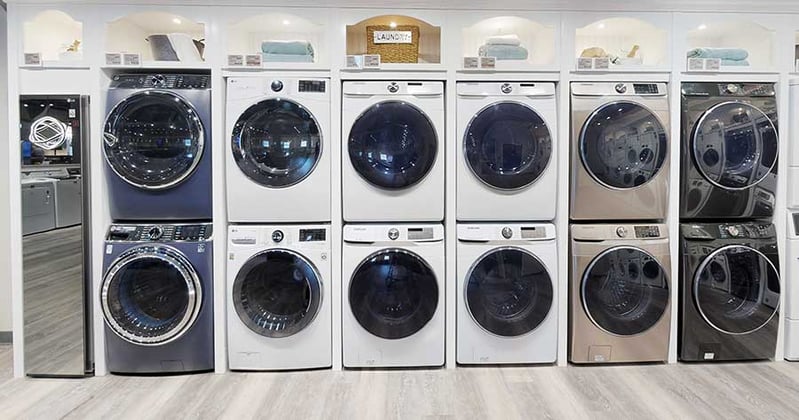 Front Load Laundry at Yale Appliance in Hanover
You shouldn't wait for Tax-Free Weekend to buy your appliances because of this year's global supply issues due to the Coronavirus (COVID-19) pandemic.
Appliance availability is the worst in my 34 years at Yale by far.
COVID-19 has hit the appliance supply chain incredibly hard since January. It started in China. Many products and parts are built in China.
It spread to Europe and the Northeast in the Winter affecting many of the warehouses along the way.
Now it's in the South and West, where manufacturers like GE, Sub-Zero, Sharp, Samsung, and LG have factories.
Factories in Mexico for brands like Electrolux are no longer shipping products and parts.
COVID-19 has closed factories and then limited their efficiency on the reopening by social distancing and other necessary safety measures.
Then brands have parts issues.
The appliance supply chain is now global. A dishwasher, for example, will have 220 parts sourced from different places.
Unfortunately, there will be problems with attaining parts, so the dishwasher cannot be released from the factory.
Shopping For Appliances During A Supply Crisis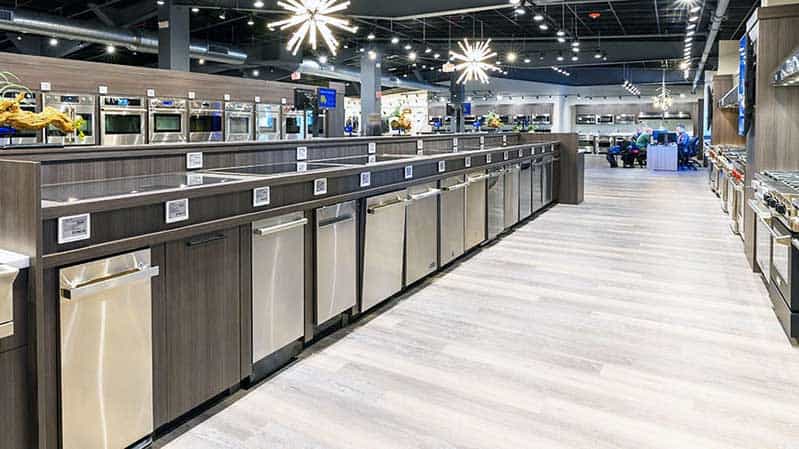 Dishwasher Display at Yale Appliance in Hanover
Given the supply problems, there are plenty of stores without appliances to sell.
Many have sold their floor models in response.
You can always tell by looking at holes where appliances once were or if there is a preponderance of appliances with customer names.
The situation will not improve in the short term. Many estimated times of arrival for store purchase orders are now September and October or later.
If a store did not forecast potential high demand by placing orders in the spring, they would not have products until the end of September at the earliest.
Many stores will have this problem because they canceled orders in the spring due to the dramatic drop in demand because of the Coronavirus.
To make matters worse, much worse, they will also have to replace their floor models.
So you will have a big problem.
Depending on the store, you may be waiting until New Years for your new kitchen.
To learn more about how to buy appliances during a supply crisis, click here.
Should You Buy Appliances During Tax-Free Weekend?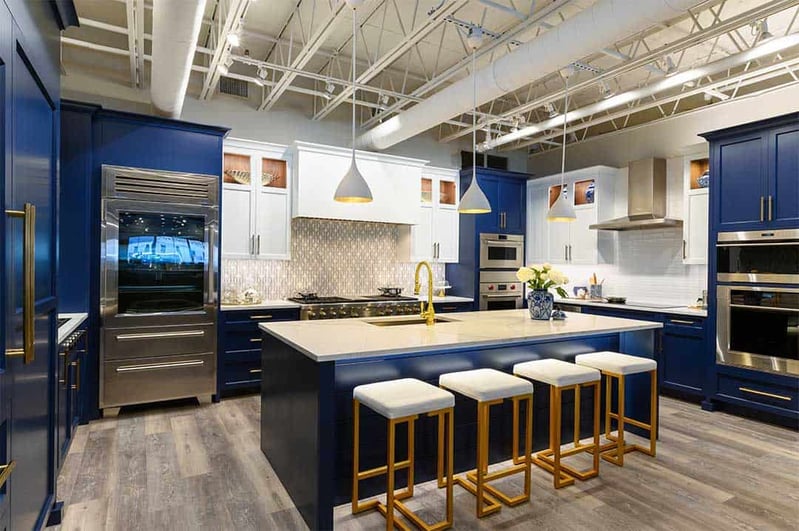 Sub-Zero and Wolf Kitchen at Yale Appliance in Hanover
Tax-Free Weekend and Labor Day promotions could be the best combination and time of the year to save money. You will have additional discounts with your tax savings.
If you need your appliances by late October or later, it's a good buying opportunity.
However, with rapidly dwindling inventories, it may be a better idea to buy your appliances when there is even limited availability.
At worst, you will be first in line when appliances do ship later this year.
If you wait until Tax-Free Weekend, you may not have your appliances until Halloween at the earliest.
Additional Resources:
Download our Appliance Buying Guide with features, specs, buying strategies, and the answers to the top 10 appliance questions. Well over 820,000 people have read and trusted a Yale Guide.
Related Articles: